Komodo Island Indonesia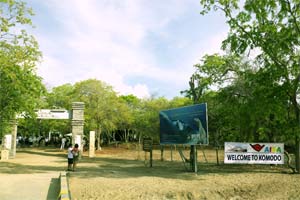 Komodo Island Indonesia is an island that is located in Nusa Tenggara Islands Range and it is well known as the original and the only place where you can see Komodo.
On this island, Komodo live and breed really well. According to the data, until August 2009, there were about 1300 Komodos living on this island and the other islands near it like Rinca Island and Gili Motang. Now the total amounts of komodos is about 2500 komodos. There are also about 100 Komodo live on Wae Wuul conservation at Flores Island, but that place is not included as a part of Komodo National Park.
Besides Komodo, this island also keeps exotic flora like Sepang woods that are used by local people as medicine and clothes' dying.
Komodo Island is also accepted as one of the World Heritage sites because it is a part of Komodo National Park together with other islands such as Rinca Island, Padar Island, and Gili Motang.
What are Unique Things on Komodo Island Indonesia?
Komodo Island Indonesia is a unique island because this is the only place where Komodo live as the original habitat of Komodo. Komodo is the prehistoric giant lizard and that is why; this island was nominated in the "New 7 Wonders of Nature".
Komodo Island Indonesia is the right place to visit, especially if you like adventure. Nowadays, reaching this island is not a difficult thing to do. There are many kinds of travel agencies that can accommodate your trip to Komodo Island.
To reach this dragon island, you have to pass through the Flores Sea by using a boat. You can transit at Labuan Bajo first. At Philimon dock, there will be a lot of boats that are ready to take you to Komodo National Park. The price is usually based on the kinds of boats that you choose. On Komodo Island Indonesia, you will pass through the short track for about 3,5 km.
The forest here is well kept and you can find some kinds of trees like the papyrus. Actually, Komodo National Park consists of Komodo Island, Rinca Island, and two small islands that are named as the Gili Motang island and Nusa Kode. On these 4 islands, you can find for about 2500 healthy Komodo and Komodo Island has the most number of Komodo with 1300 Komodo live there.