TOP KOMODO TOUR is a licensed and highly recommended Local Tour Agency in Labuan Bajo town, Komodo, Flores Island, Indonesia. It specializes to organize tour packages to FLORES ISLAND and KOMODO NATIONAL PARK. Due to our great service, make our customers put the best review on our Tripadvisor page and other online travel sites.
TOP KOMODO TOURS arranges PRIVATE TOUR & GROUP TOUR PACKAGES at a reasonable and competitive price. The most recommended tours are KOMODO TOURS and FLORES ISLAND TOURS. KOMODO TOURS are tour packages to witness the KOMODO DRAGON and other wildlife, including exploring its spectacular nature around. This type of tour is done only by using a BOAT/SHIP to reach the destinations. The trip activities cover SAILING TOUR, TREKKING, SEEING KOMODO DRAGON, SNORKELING, BEACHING and more, based on your request.
FLORES ISLAND TOURS provide some type of adventure tour packages to explore the unique CULTURE, NATURE & PEOPLE on the island. Visit KELIMUTU THREE COLOR LAKE, RIUNG, BENA, WAE REBO, FLORES HOBBIT CAVE and more. The tour activities also cover TREKKING, HIKING, BIRDING, BIKING, BEACHING etc. suited to your need. The trip generally uses land transport which starts and ends either in LABUAN BAJO town, West Flores, or in ENDE/MAUMERE town, East-Flores Island.
Our other expertise is organizing KOMODO ISLAND TOUR FROM CRUISE SHIP. This tour package is specifically designed for cruisers of WORLD CRUISE LINE which stop 1-day on KOMODO ISLAND before heading its route to the next destinations. We usually organize KOMODO ISLAND SHORE EXCURSION for cruisers of HAL Cruise Line, Royal Caribbean, Princess Cruise, Norwegian Cruise Line, Carnival, Celebrity Cruise, Azamara, P&O, Oceania, AidaVita Cruise, etc. Have a look on Tripadvisor our best reviews of KOMODO ISLAND SHORE EXCURSION FROM CRUISE LINE
Need more info about TOURS TO KOMODO FLORES INDONESIA? Please CONTACT US
Komodo dragon tour is our most recommended tour procuct. We've not only 3-days trip, but aslo many trip options set from 1 to 5-days exploring Komodo National Park by boat/ship. The tour covers the highlighted spots i.d. Komodo, Padar, Pinck Beach, Manta Point and more.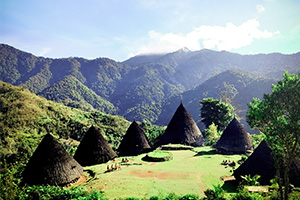 Wae Rebo Traditional Village Tour is a tour to visit the most spectacular and isolated traditional village of Wae Rebo. It's located on the mountain. The major attractions are unique Culture, Nature and People. 2 or 3-hours trekking through the natural forest is the only way to reach up the village.
Another recommended tour we offer, is Kelimutu tour in Flores. The tour focuses to see Kelimutu three color lakes which formed by eruption of Kelimutu volcano some hundred years ago. It is located in south central of Flores island Indonesia.
Wae Rebo Komodo Tour is a perfect tour combination to show you the unique culture of Wae Rebo village, Manggarai tribe, west Flores island, combined with Komodo dragon tour to explore the impressive nature and the real habitat of Komodo dragon in Komodo National Park.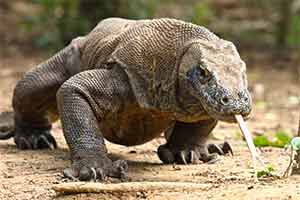 Kelimutu Komodo tour is a special tour program to visit two main tourist attractions on Flores and Komodo island in Indonesia. These two unique attractions are Komodo dragon and Kelimutu three colored lake formed of volcano explotion.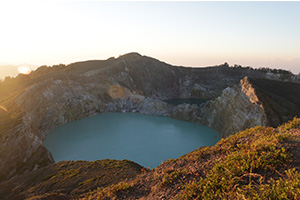 Traveling to Flores and Komodo island Indonesia will be more completed, if you can cover three recommended tourist attractions, they are: Komodo dragon, Kelimutu three color lake and an impressive traditional village Wae Rebo.