A sharing tour is run based on a fixed itinerary and schedule created by a tour provider or agency. The tour participants who join this tour type must follow and obey all terms and conditions during the tour is ongoing. It is particularly about the schedule and the itinerary.
Sharing tour is usually a very tight itinerary and schedule has been fixed. The time is also even more rushed when you are on the tourist spot. It doesn't sound good for anyone who want to discover deeper the visited-destination. It is also not really recommended when you are traveling with kids. Because they have limited time to have a fun and relax on the spot-visited.
But, the advantage of sharing tour/open trip option is the tour cost will be more economical comparing to the private service, due to the participants can share the tour budget with others.
Here are some sharing tours service we provide as follow.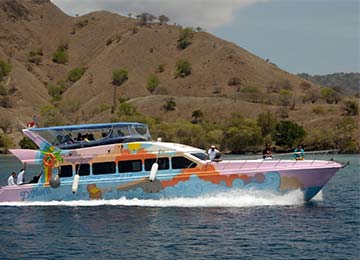 Daily komodo Tour
Price: IDR. 1.450.000 per person. Departure everyday from Labuan Bajo
Komodo Tour 3D/2N
Price Start From: IDR. 2.500.000 per person. Departure every friday from Labuan Bajo
Komodo Tour From Cruise Ship