Padar Island in Komodo National Park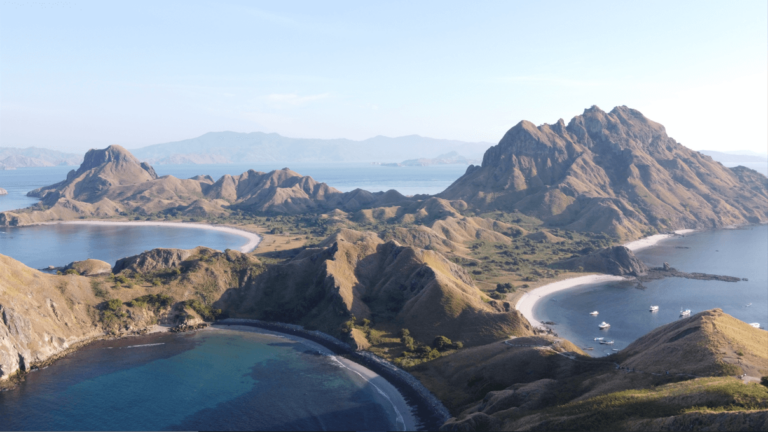 Padar Island is an island without any people who live in this place, the natural condition here is still virgin and beautiful. On this island, you can see some interesting destinations such as Pink Beach.
For trekking fans and photographers, Padar Island is the right heaven. It has a spectacular landscape with three different pure colors of beaches.
If you are on Padar Island, try to hike one of the hills that have a high peak and watch the beauty of its surrounding scenery. From the hill's peak, you can see one of the hidden heavens.
You can see the beautiful Rinca Island and Komodo Island from these hills. The exotic landscape and scenery from Padar Island become one of the best panorama photos in Labuan Bajo.
From the peak of the hills, you will see that Komodo Island and Rinca Sea are bound together to form a natural painting and you will not find anything like this in the world.
Padar Island in Komodo is the third biggest island in Komodo National Park after Komodo Island and Rinca Island. Maybe Padar Island is not as famous as Komodo Island, but its beauty is not beaten by those islands.
The location of Padar Island is closer to Rinca Island than the distance to Komodo and it is separated by the Lintah strait.
Padar Island is also accepted as one of the UNESCO World Heritage because it is located in Komodo National Park together with Komodo Island, Rinca Island, and Gili Motang.
Although Padar Island is located as a part of Komodo National Park, you will not see any Komodo here because of the food chain that is broken.
Around this Island, there are existed for about three to four small islands that have their own unique. There is also the pink beach overlay on this Padang Island that is really perfect to use for some water sports like snorkeling or just swimming. Visitors can also hike the hills that are located on Padar Island to enjoy the beauty of its scenery from above.
The blue sea colors will hypnotize the visitors. The trekking activity will be a little bit exhausting, but visitors will enjoy the hill scenery and a really beautiful view, capturing these moments with your camera will be a really fun activity while you do trekking.